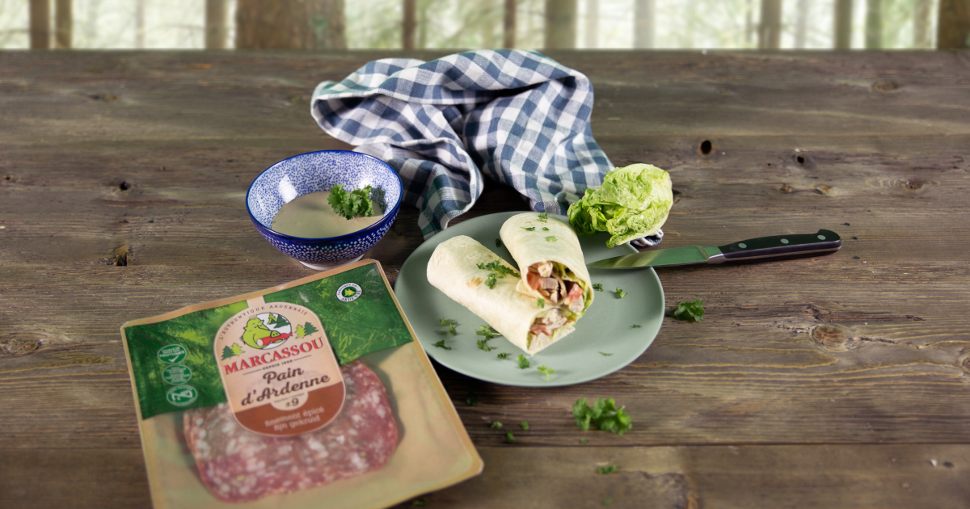 CAESAR WRAP WITH ARDENNES BREAD
Description
Caesar wraps with Ardennes bread is a recipe suggested by Marcassou.
+32(0)84 45 00 00 - webshop@marcassou.be
Recipe
Ingredients (4 people)
2 chicken fillets
1 chicken stock
4 slices of Pain d'Ardenne (Marcassou filet d'Ardenne)
4 tortillas
1 Little Gem lettuce in strips
20 g parmesan flakes
chopped parsley
For the sauce
1 clove of garlic, peeled
6 anchovy fillets (from a can)
1 teaspoon sweet mustard
1,5 tablespoons worcestershire sauce
2 tablespoons mayonnaise
2 tablespoons yogurt
50 g grated parmesan cheese
Lemon juice (to taste)
Black pepper (to taste)
Preparation
Place the chicken fillets in the stock and bring to the boil over medium-high heat. Simmer for 10-15 minutes until the chicken is cooked. Then remove from the stock, allow to cool and cut into strips.
Prepare the sauce. Crush the garlic and chop the anchovy fillets. Mix with the mustard, Worcestershire sauce, mayonnaise, yoghurt and Parmesan cheese to a smooth sauce. Season with lemon juice and black pepper.
Cut the Pain d'Ardenne into strips.
Place Little Gem lettuce and chicken strips on each wrap. Top with Pain d'Ardenne and sauce, and garnish with Parmesan shavings and parsley.
Suggestions
Chords