Circuit unexpected flavours (122 km)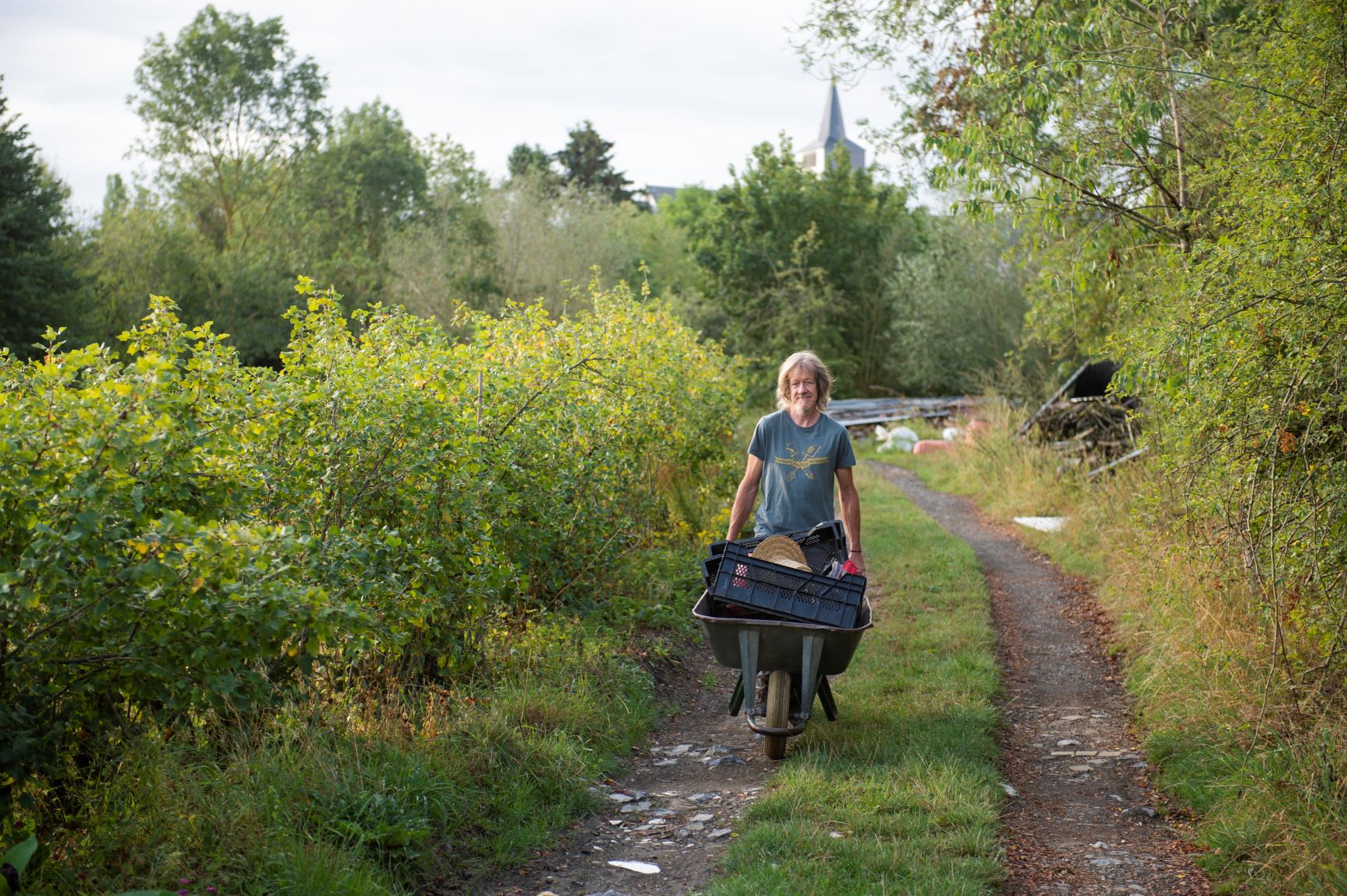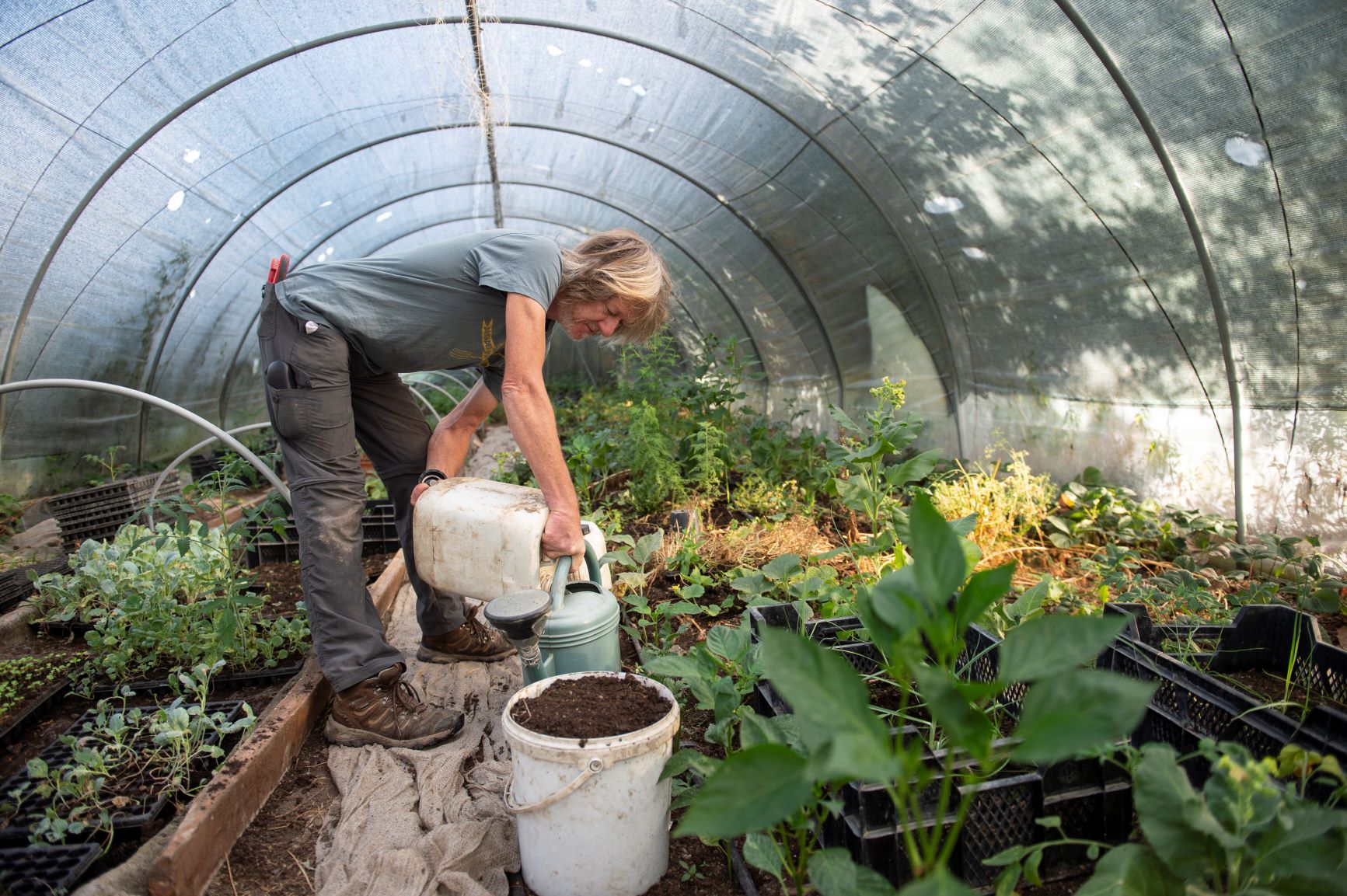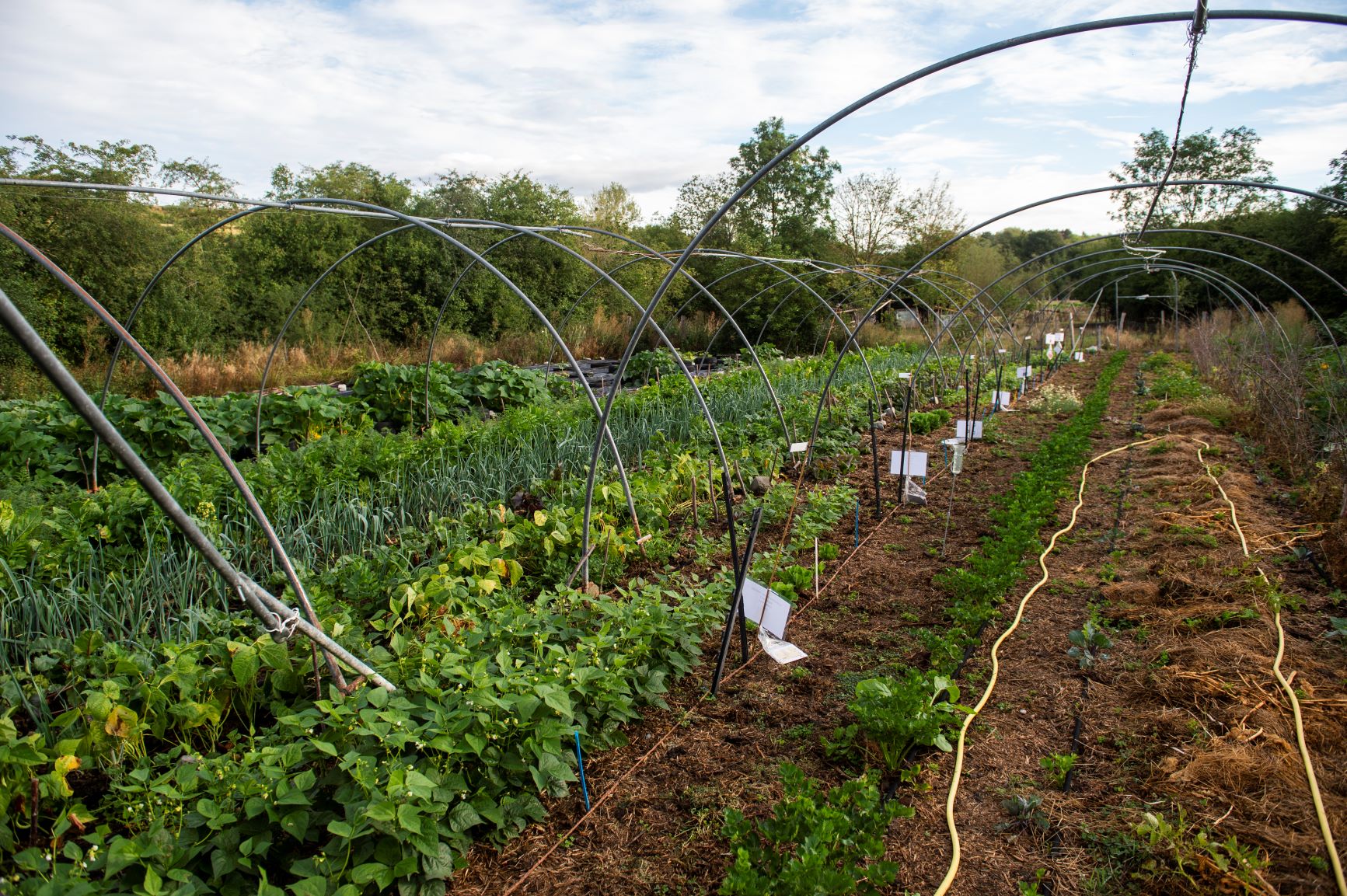 The Arc-en-Ciel Farm grows seasonal and forgotten vegetables with the permaculture method based on natural cycles and the absence of ploughing and chemical fertilisers. The aim is to create a diversified and stable food system integrating sustainable plants, fruit trees and animals close to the natural ecosystems whose diversity seems to be the best asset against diseases.
Possibility of visiting the vegetable gardens for about 2 hours, as well as workshops!
Les Hayettes 126 – 6920 Wellin
+32(0)495 56 52 19 – www.fermearcenciel.be
By appointment for groups of 10 or more people (5 €/pers.).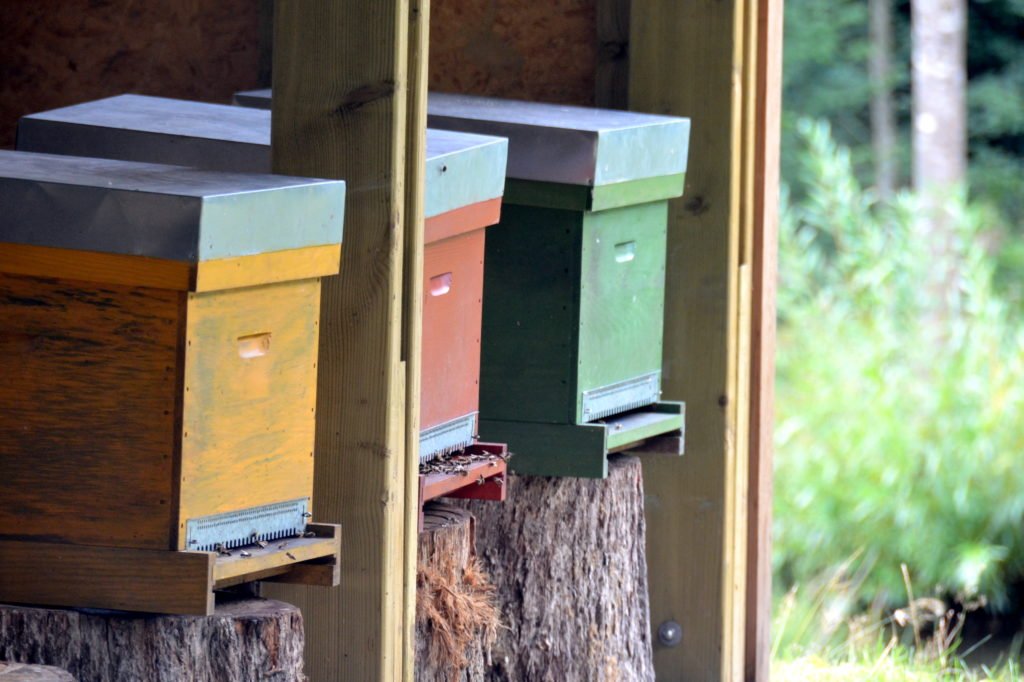 In the heart of the forest of the Domaine de Mirwart, many small treasures are hidden like the didactic apiary of the Marsoult, equipped to let you discover – in all safety – the fantastic world of bees, to the delight of young and old.
The aim of the apiary is to preserve the indigenous species: the black bee, also known as the "bee of the region". In spring and summer, honey is harvested. The apiary is located near the Estate's fish farm, which is renowned for the quality of its "fario" trout, which are used to supply the local rivers.
Rue du Moulin 16 – 6870 Mirwart (Saint-Hubert)
+32(0)84 36 62 99 – www.province.luxembourg.be
Honey: for sale at the fish farm from Monday to Friday, depending on availability.
Fish farm: open day in December.
The rest of the year, the visit is only open to groups (by reservation).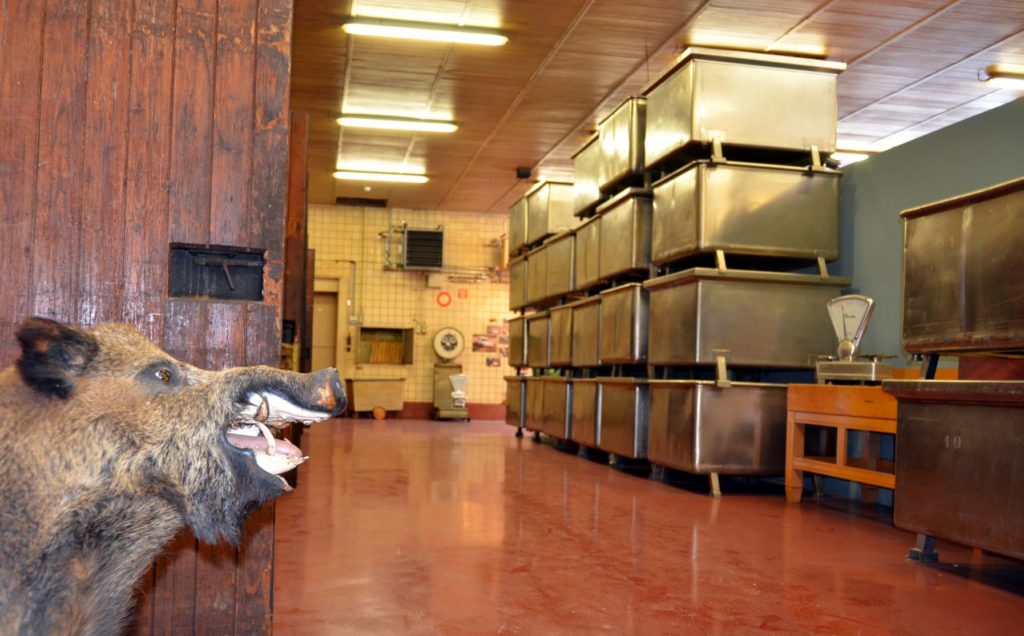 "At ease…" is the watchword of the famous brand with the boar's head: Marcassou! It is in the Saint-Hubert Forest, at the Barrière de Champlon, that the sausages and dried hams are produced. The former production centre has been transformed into a discovery area called "Le Centre Marcassou". Currently dedicated to group visits, it offers a free tour on the traces of the brand, its history, its products and ends with a tasting.

Route de la Barrière 72 – 6971 Champlon (Tenneville)
+32(0)84 45 00 00 – www.marcassou.be

Weekdays, every working day from 8.30 am to 3 pm (last admission one hour before closing time): only by appointment for groups of 20 to 65 people.
Visit with tasting: 7 €/adult, 3 €/child.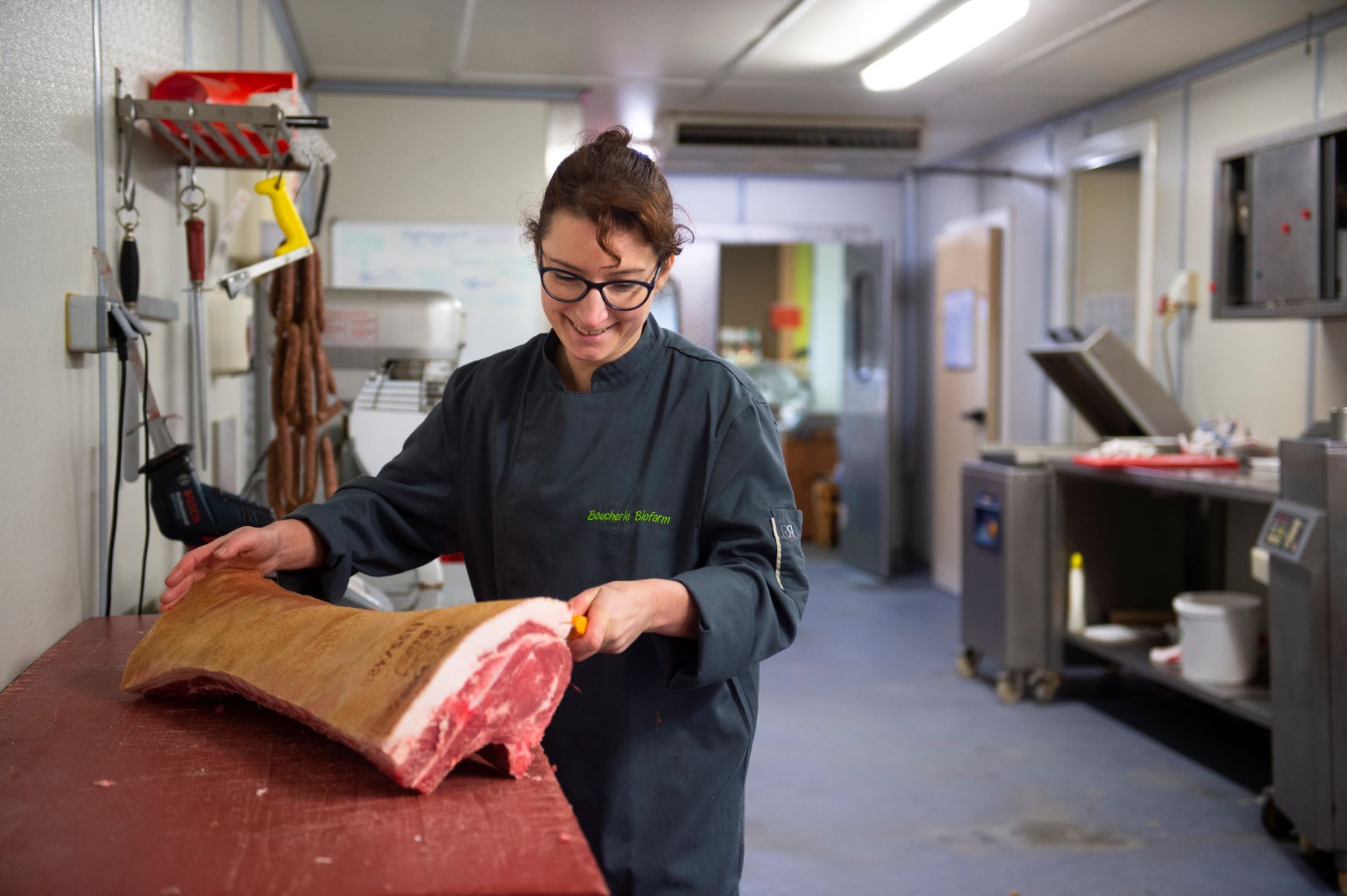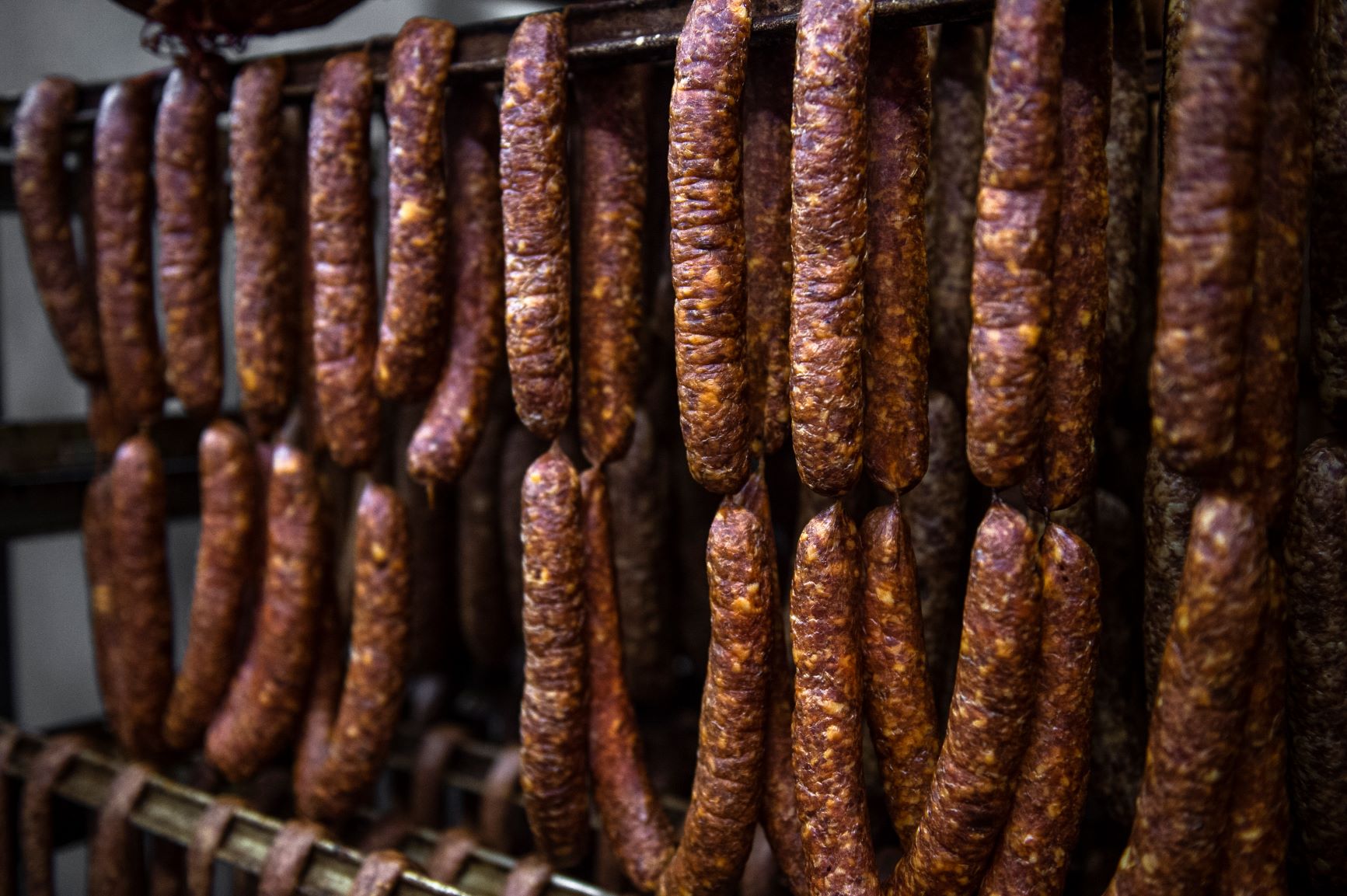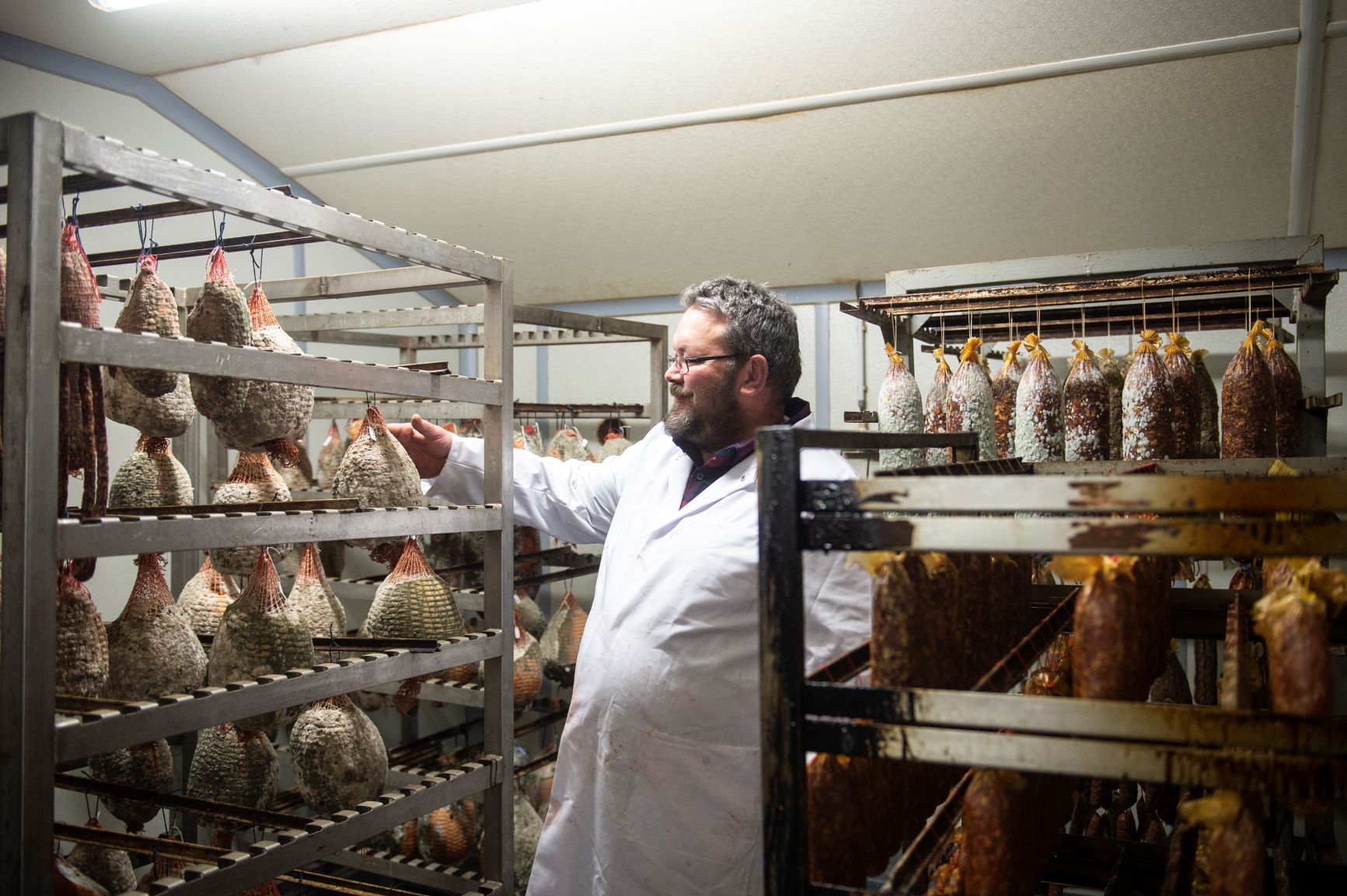 Ferme des Frênes – Biofarm, located in the small village of Cens, is a free-range farm with Sattelschwein pigs, Angus cattle and Entre-Sambre-et-Meuse lambs. There is also a butcher's shop on the farm, which is completely organic and for the most part gluten-free and lactose-free. You will find natural meats and natural "charcutries" from the farm without preservatives other than sea salt, ready-made meals, local cheeses, local beers and a small grocery shop.  . Vanessa and Patrick also share their love of the trade during visits of 1.5 to 2 hours, with tasting!

Chemin de Mousny 14 – 6970 Cens (Tenneville)
+32(0)479 34 21 05 – +32(0)486 25 33 36 – www.biofarm.be

By appointment only: 5 €/pers. (min. 10 people).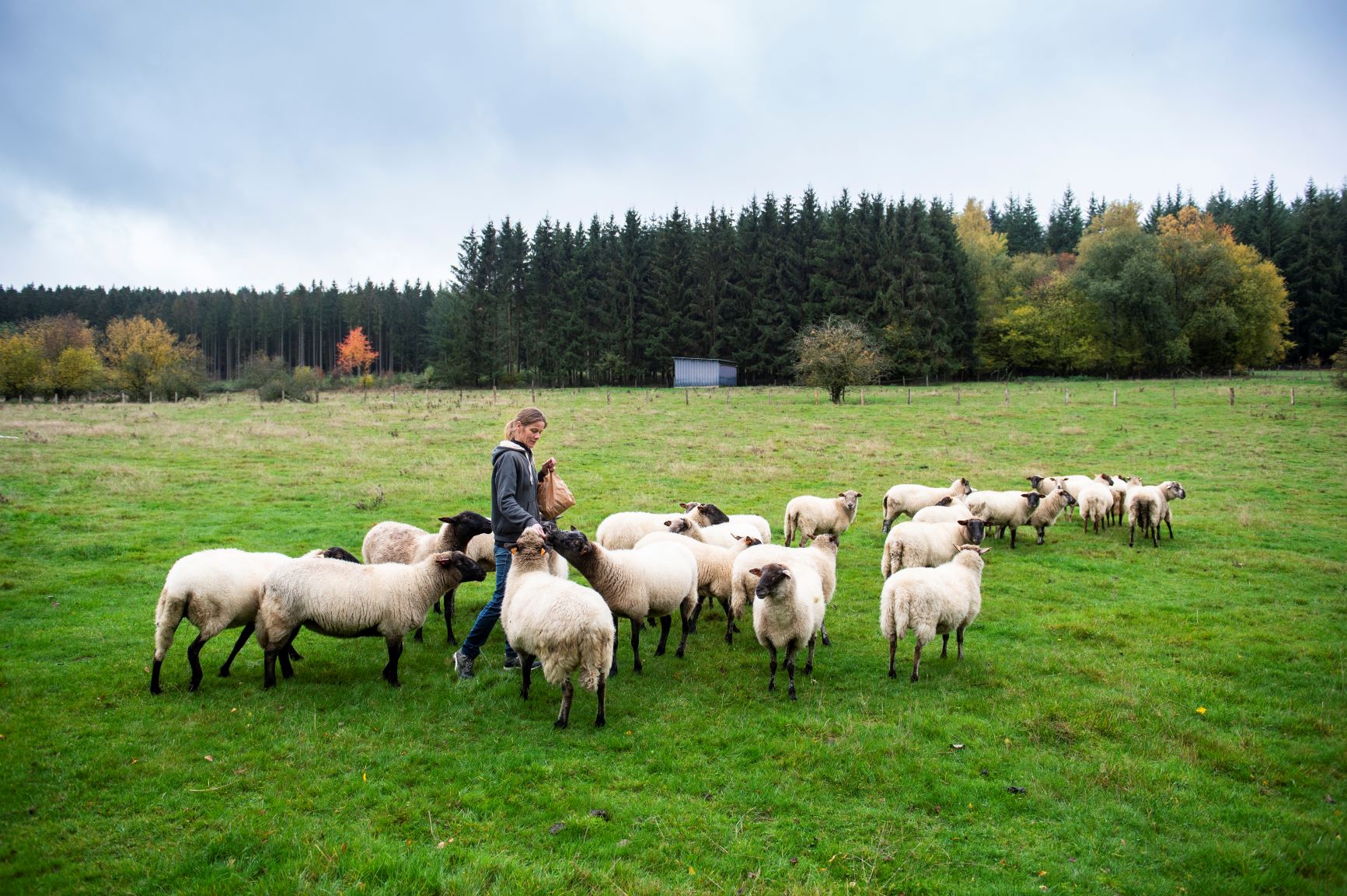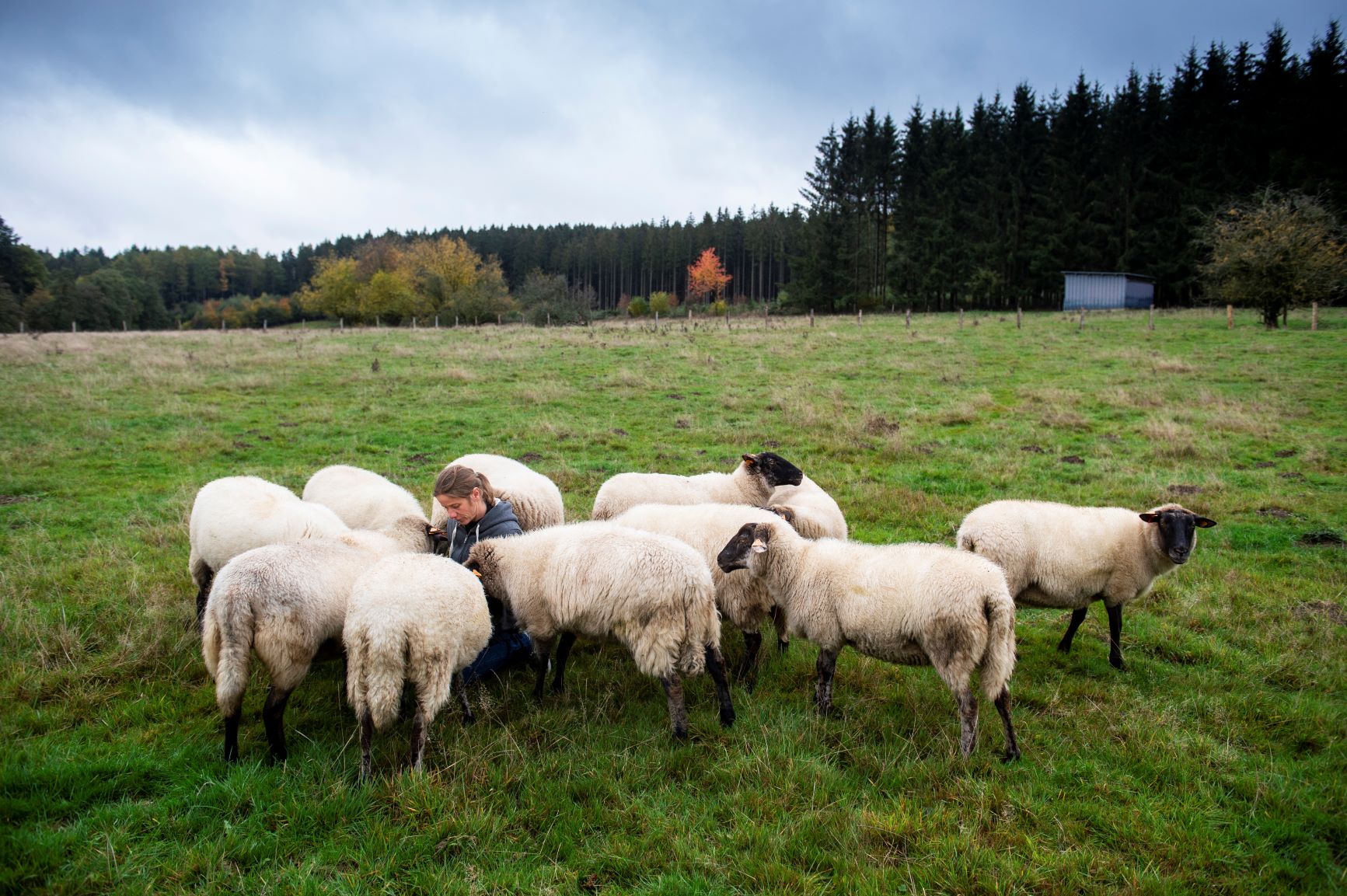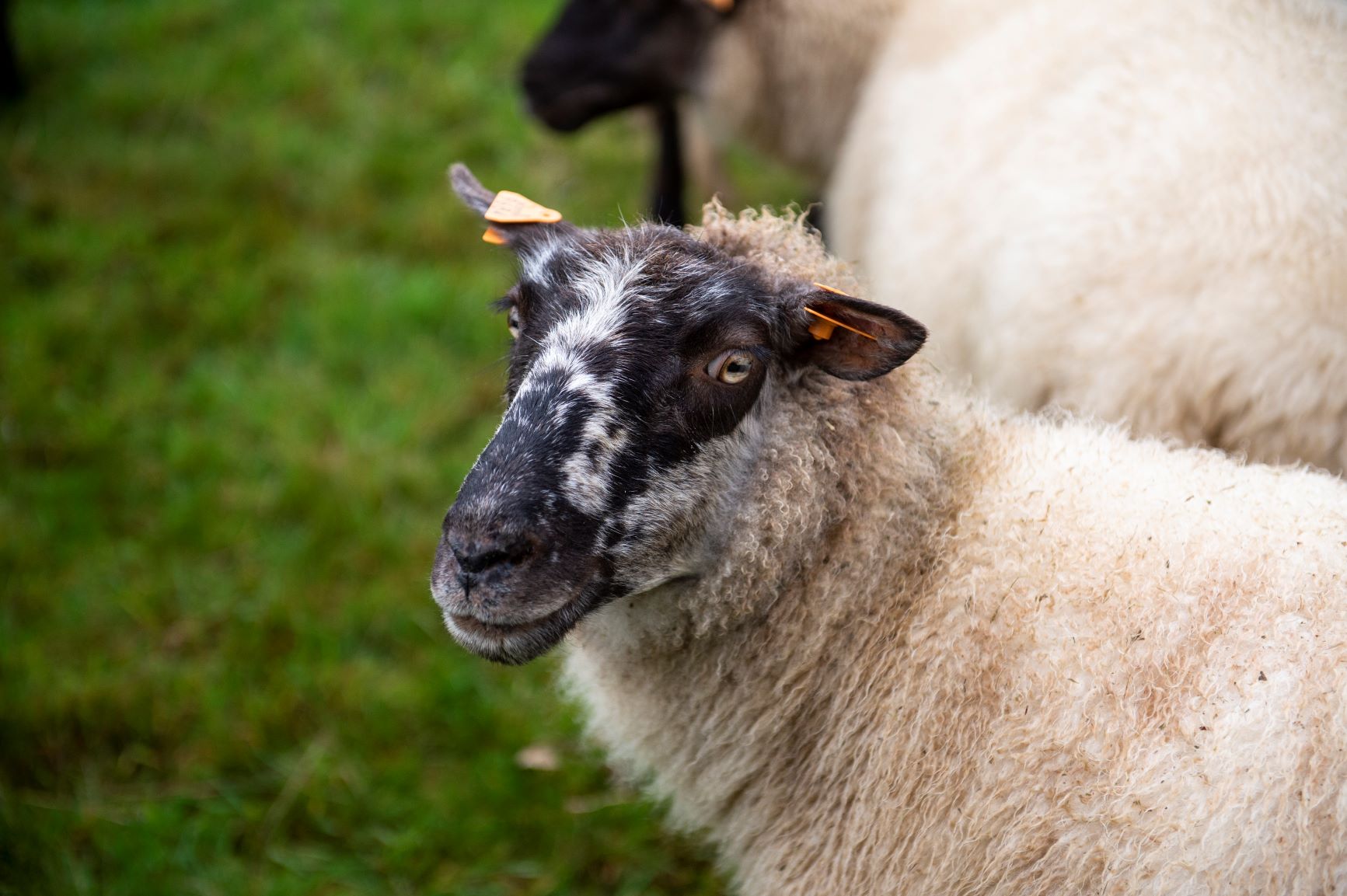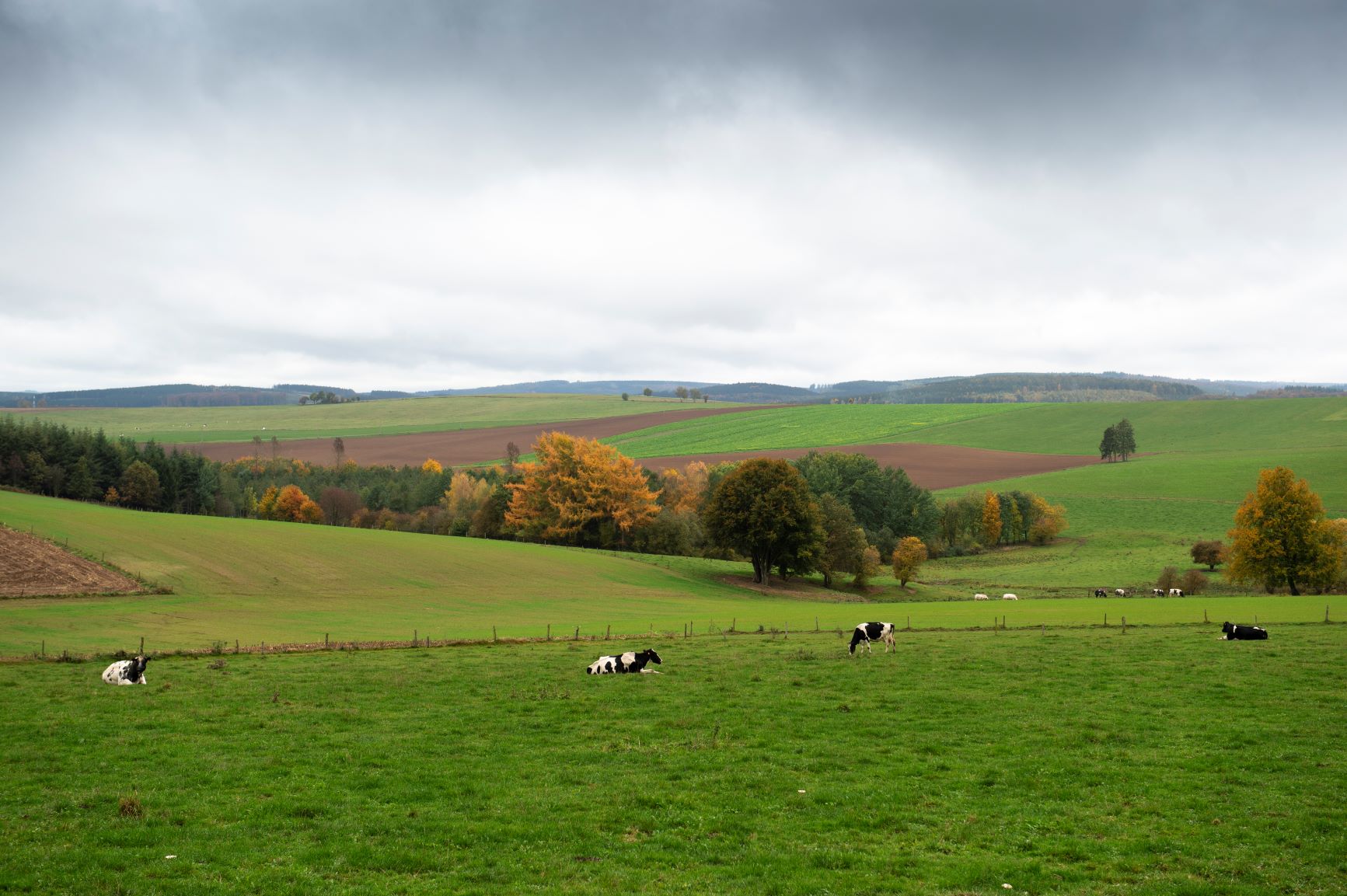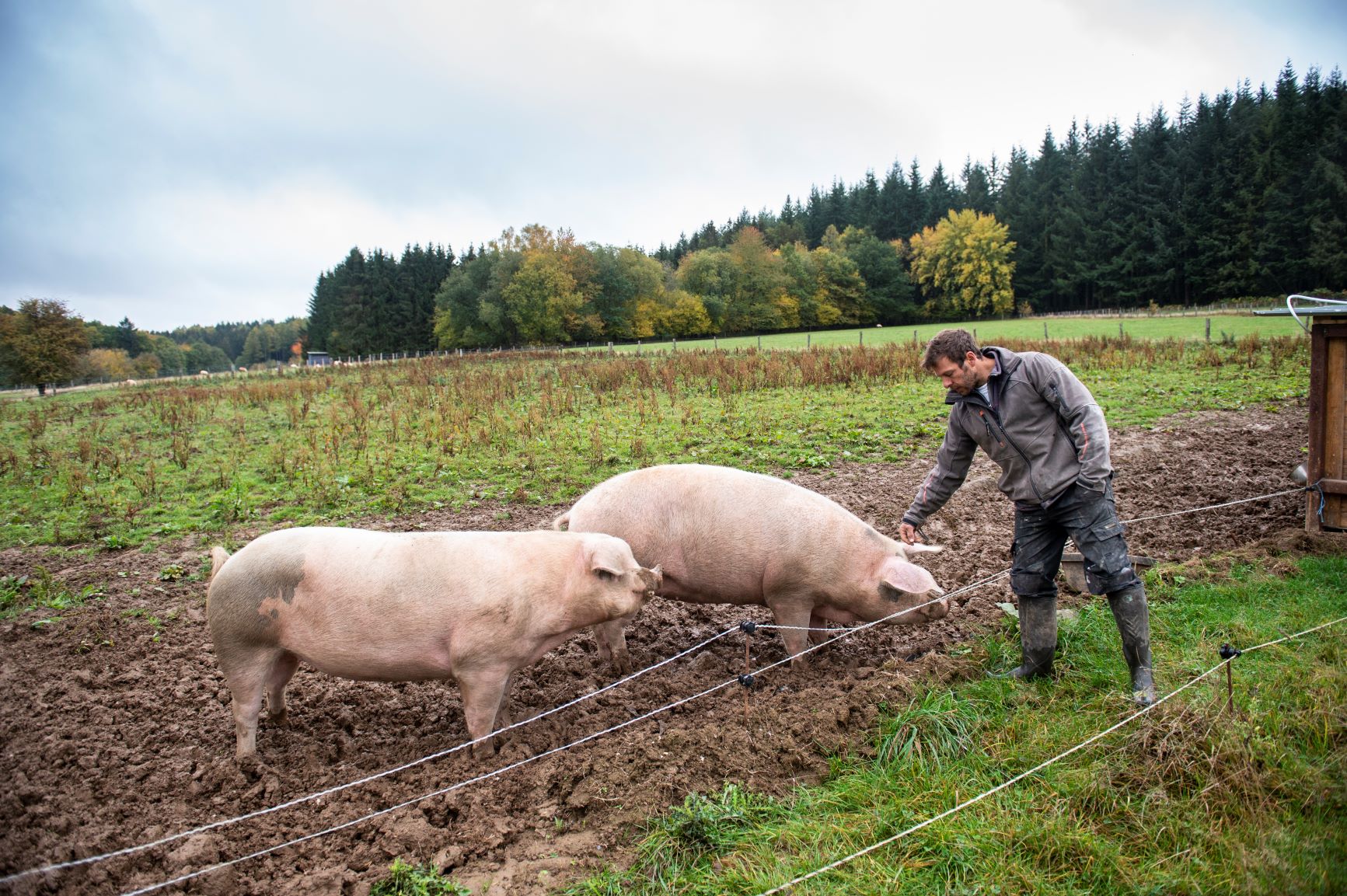 The Ferme du Long Pré is a small breeding farm. The flock of ewes is of the Entre-Sambre-et-Meuse breed, a hardy Walloon breed recently saved from extinction. Other ewes, of the Roux Ardennais and Black Welsh breeds, complete the flock, which grazes in the summer on Natura 2000 areas located in the Grande Forêt de Saint-Hubert in order to maintain the wetlands and open areas in an ecological manner.
The lambs are reared with their mothers on grassland, fed exclusively on grass, a guarantee of quality. Pigs are raised in the open air. Two sows ensure the reproduction. They give birth with respect for animal welfare and look after their piglets in a completely natural way.
A large garden completes the offer.
The meat, which is processed directly on the farm, is sold in the farm's own magazine, either as colus on order or in pieces throughout the year, depending on the stock.
The Ferme du Long Pré organises picnics with local products, nature walks and visits to the farm. Prices depend on demand and the number of participants.
Taste circuit on Celtic territory (70 km)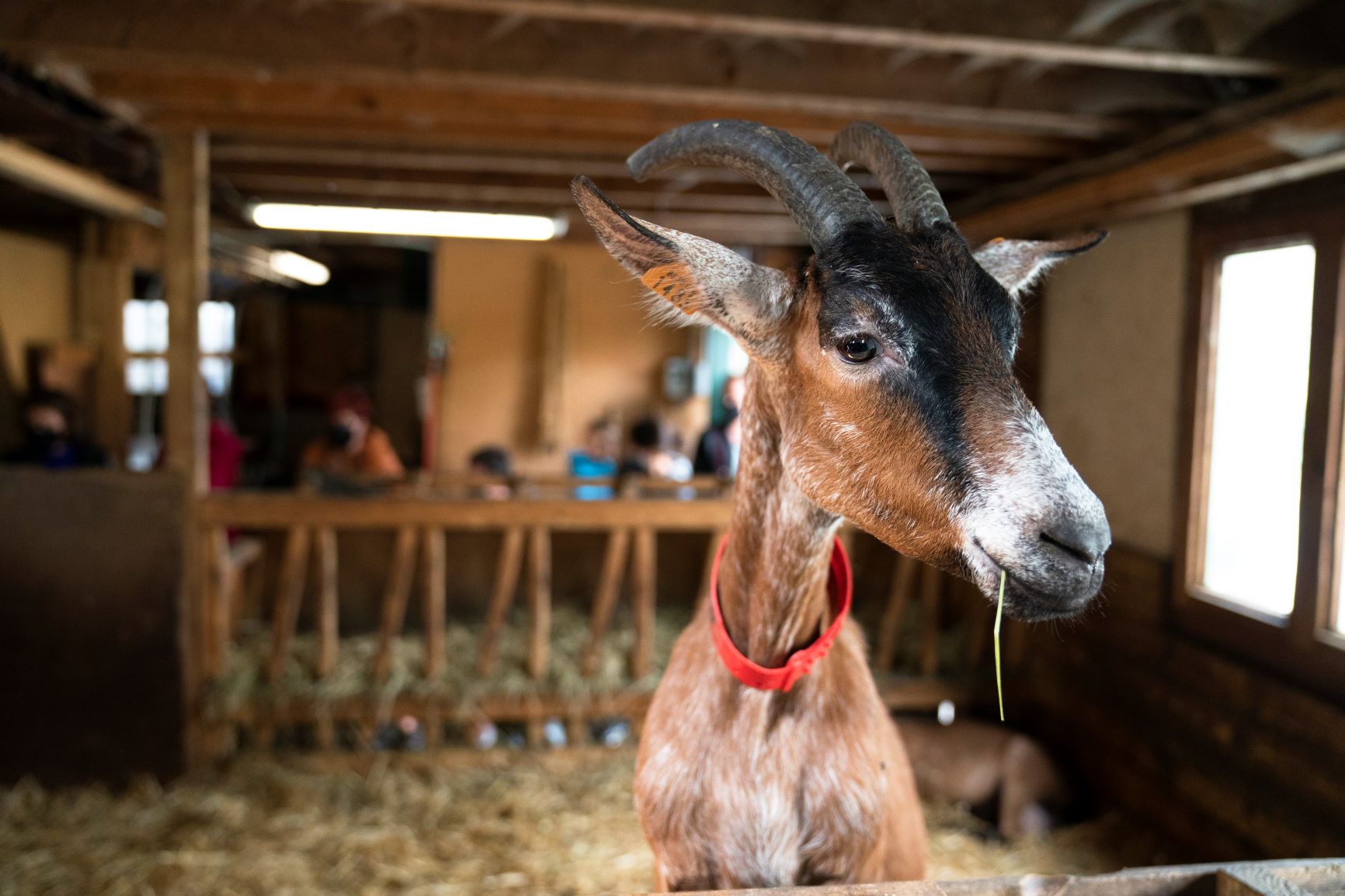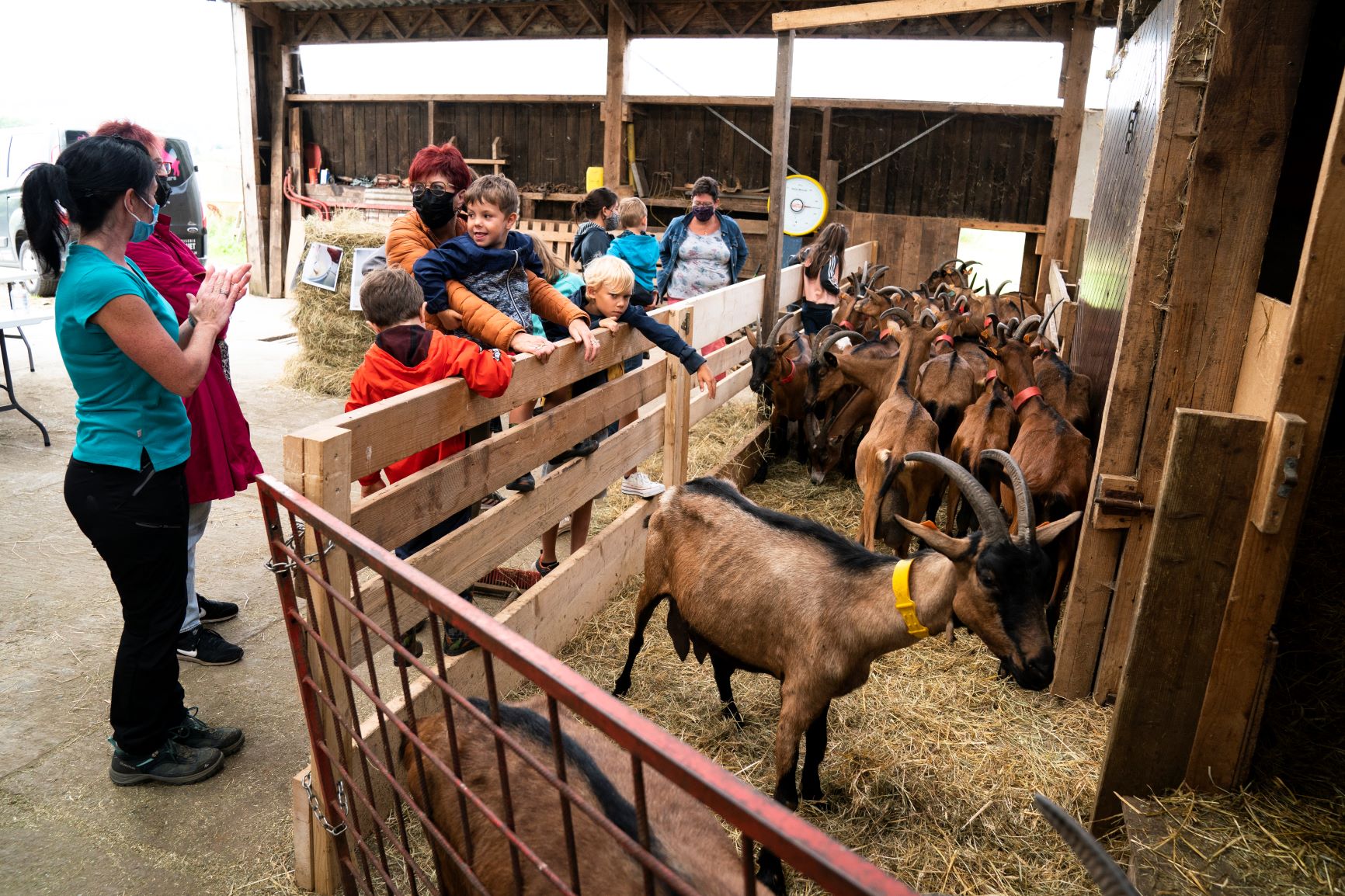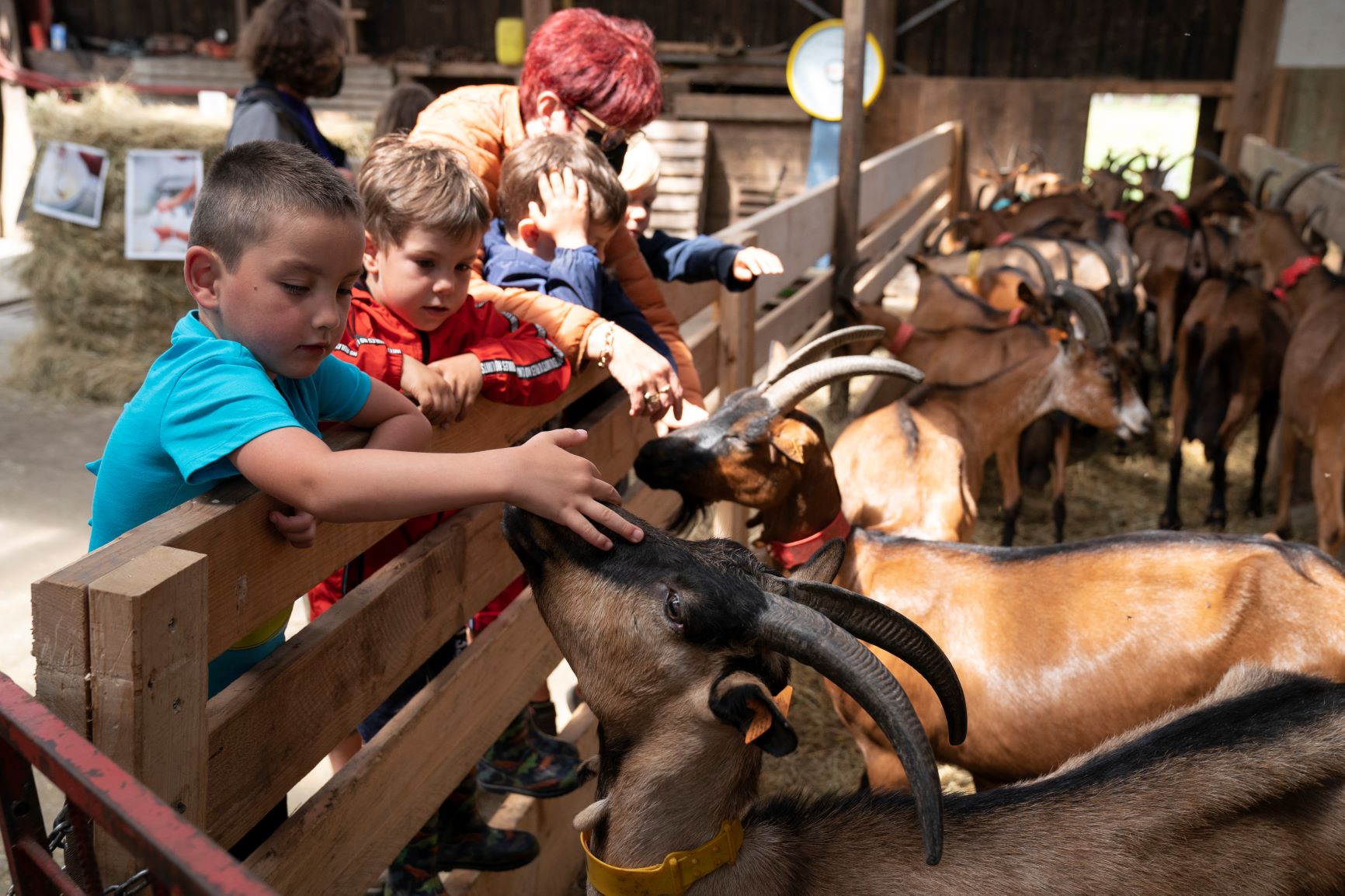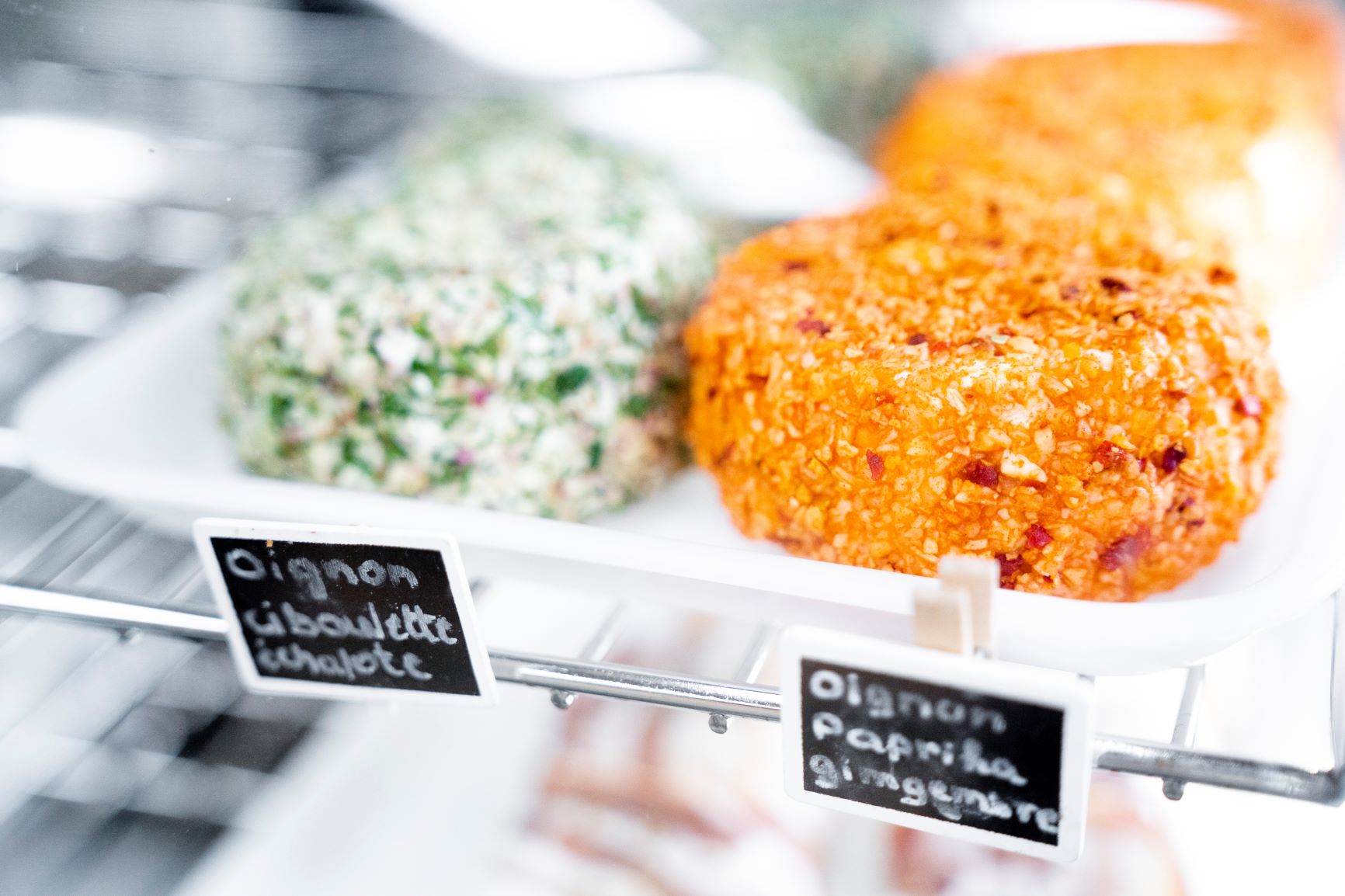 Virginie invites you to discover her farm and the breeding of dairy goats of an exceptional Alpine breed, "Les Alpines de la Core". This goat farm also offers a wide range of products such as aperitif cubes, "buches", cheese in rolls, "crottins", yoghurt …
Chemin de la Core 48 – 6800 Bras-Haut (Libramont-Chevigny)
+32(0)474 50 33 37 – lesalpinesdelacore@gmail.com
By appointment only. Visit with tasting (approx. 1 hour): 5 €/pers.
Min. 5 persons/max. 15 persons.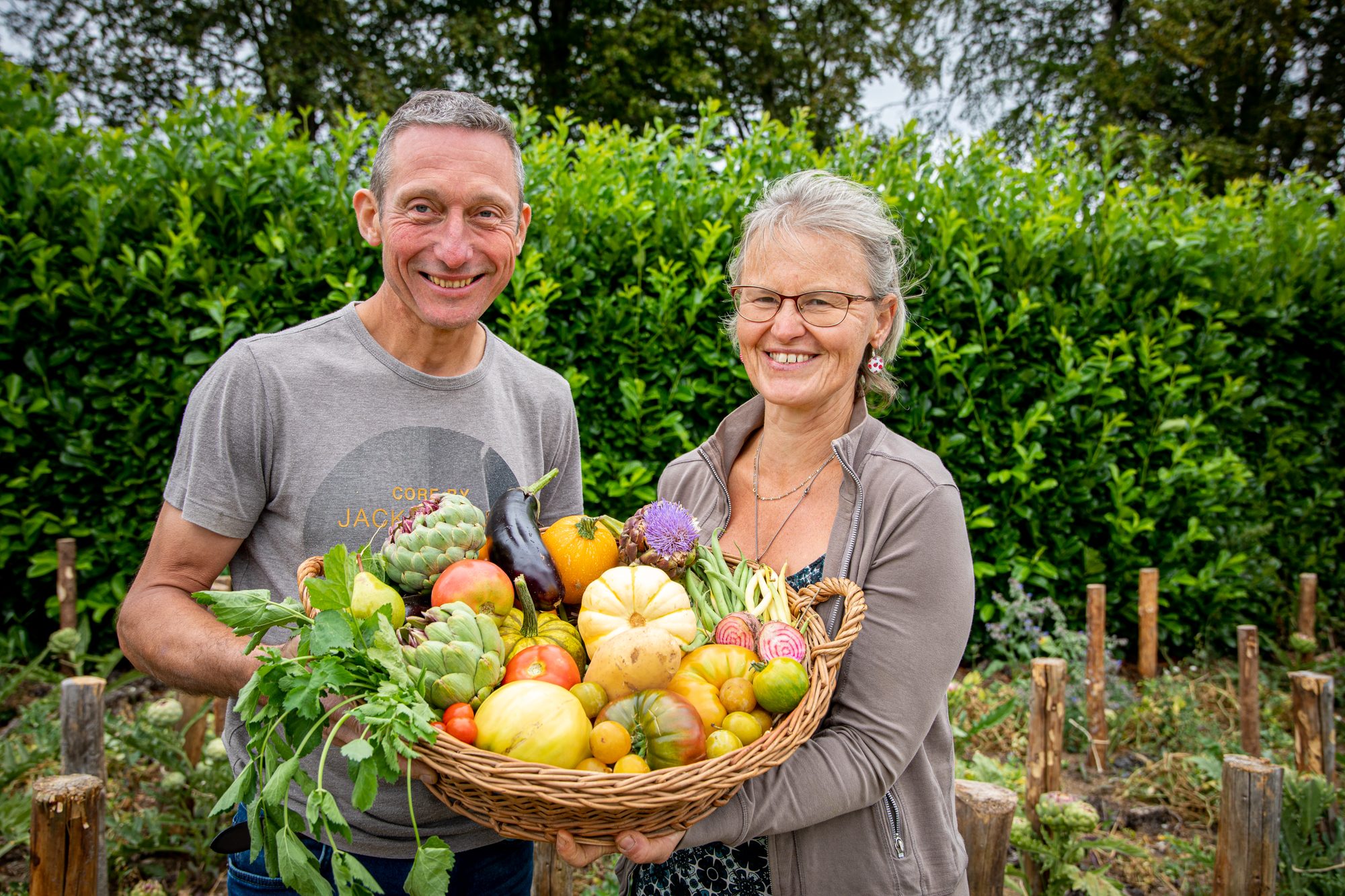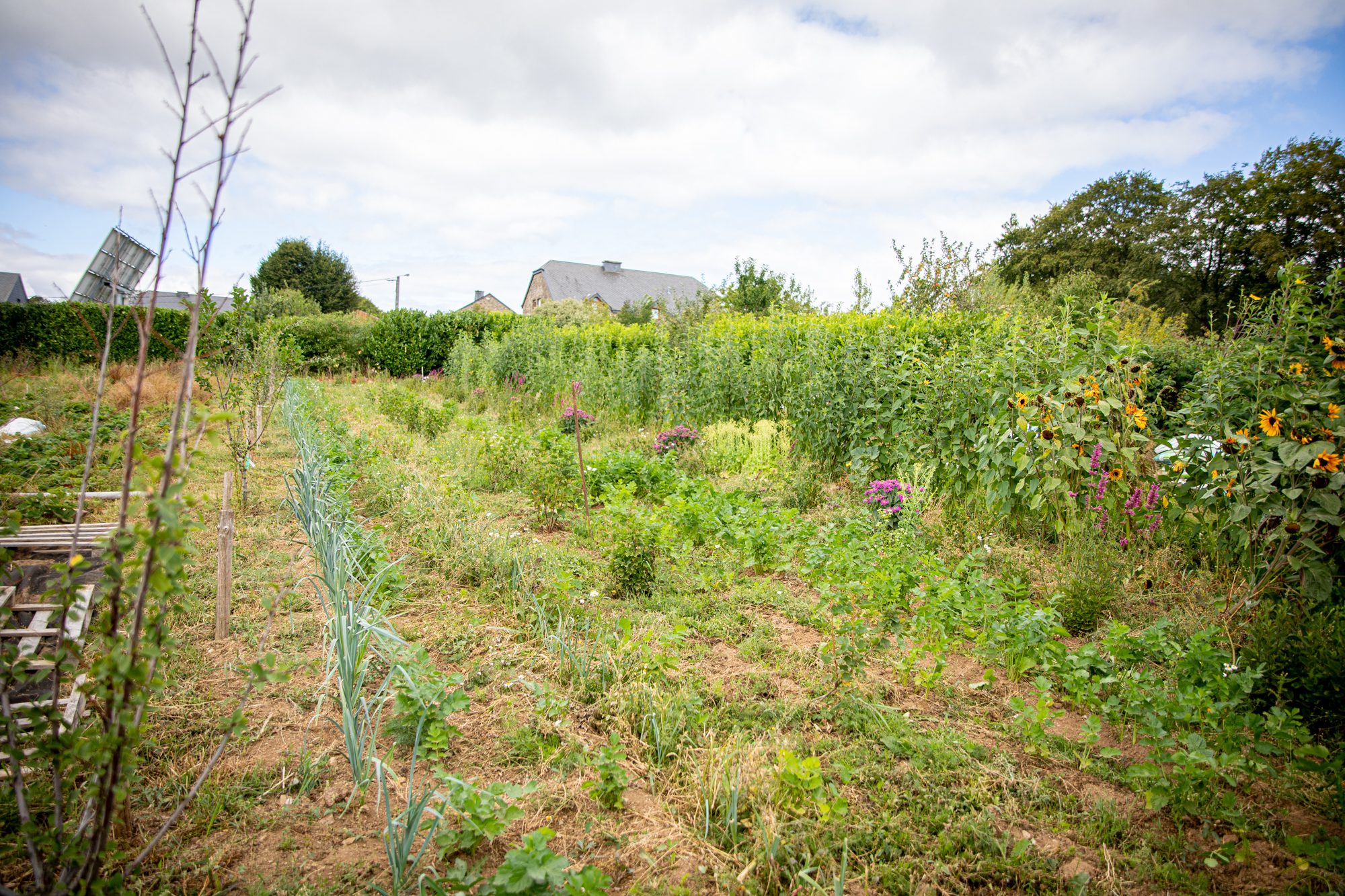 Christine and Philippe from "A la main verte" are permaturists. Apart from vegetables, they also grow small fruit and other products (onion bulbs, potato seeds, strawberry plants, aromatic plants, fruit bushes, annual and perennial flowers, "Les Thés de Marie"). During a guided tour, they explain all the cultivation methods "+/- 1 hour".
Les Colais 30 – 6800 Ourt (Libramont-Chevigny)
+32(0)61 22 31 32 – +32(0)477 68 00 12
www.alamainverte.be
By appointment only in June, July and August. Min. 4 pers. over 16 years.
Adults: from 6 €. Children: up to 5 €.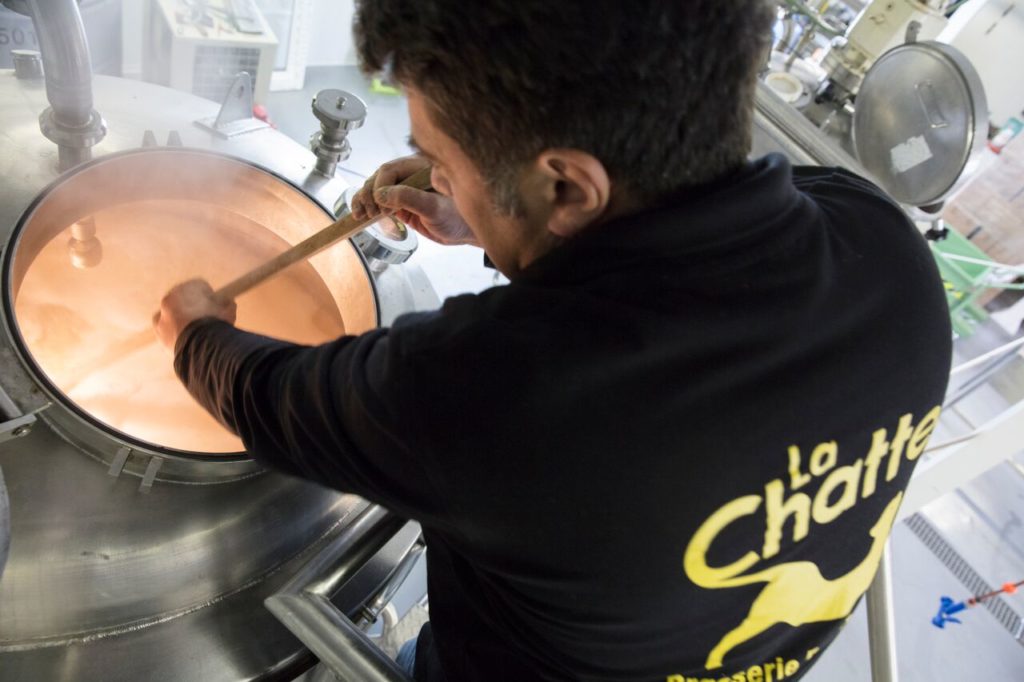 La Chatte" beer was originally brewed in the village of Neuvillers, whose inhabitants gave the brewery the nickname "les tchèts" ("the cats of Neuvillers"). La Brasserie des Tchèts is now located in Flohimont and offers several beers, including La Chatte Blonde, Blanche, Brune, Noire and Triple. The brewery can be visited all year round, discover the production process of the beers and… Taste them!
Rue du Printemps – 6800 Flohimont (Libramont-Chevigny)
+32(0)61 55 01 61 – www.brasserie-des-tchets.be
By appointment only. Min. 10 persons. 5 €/pers.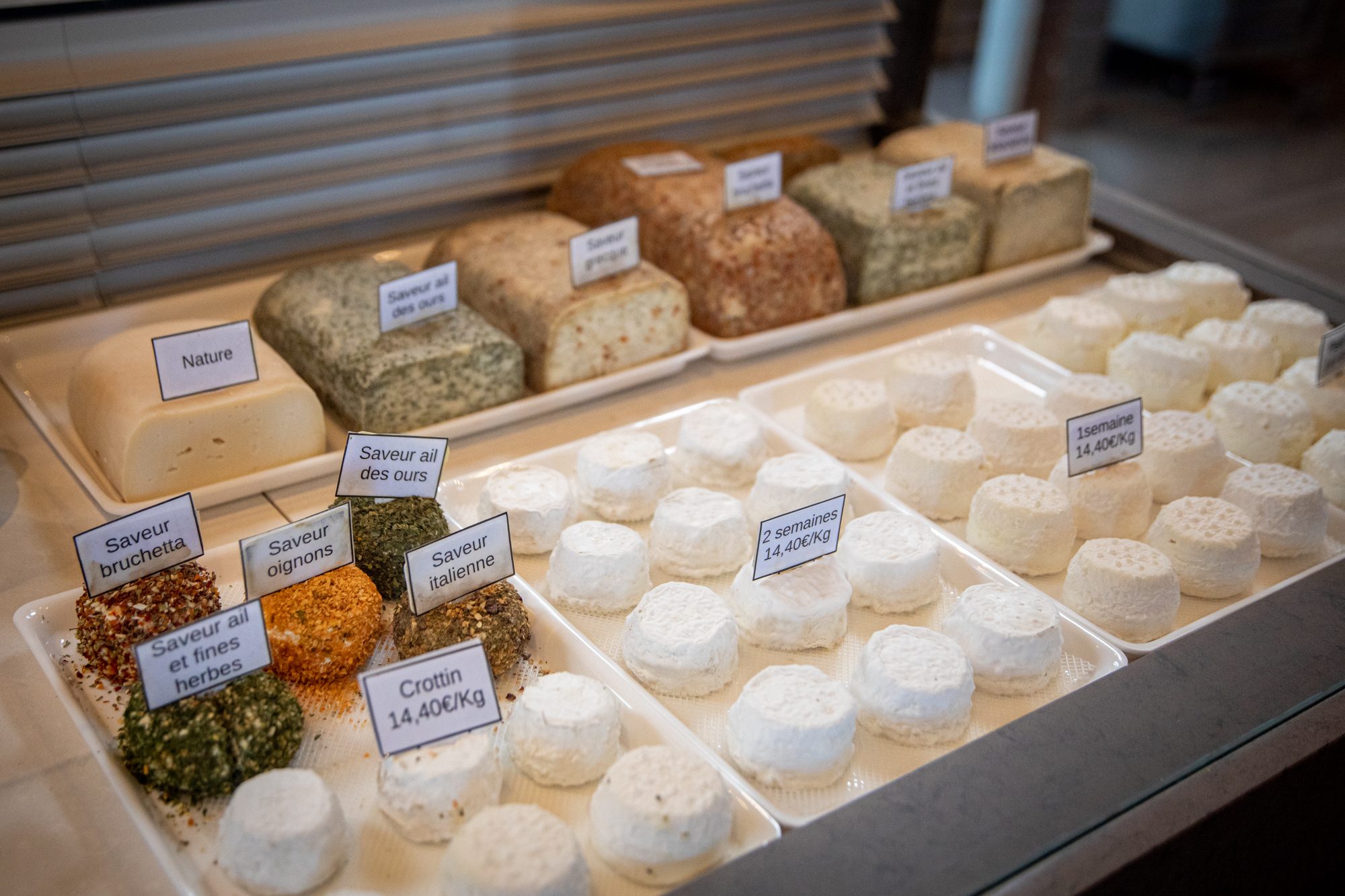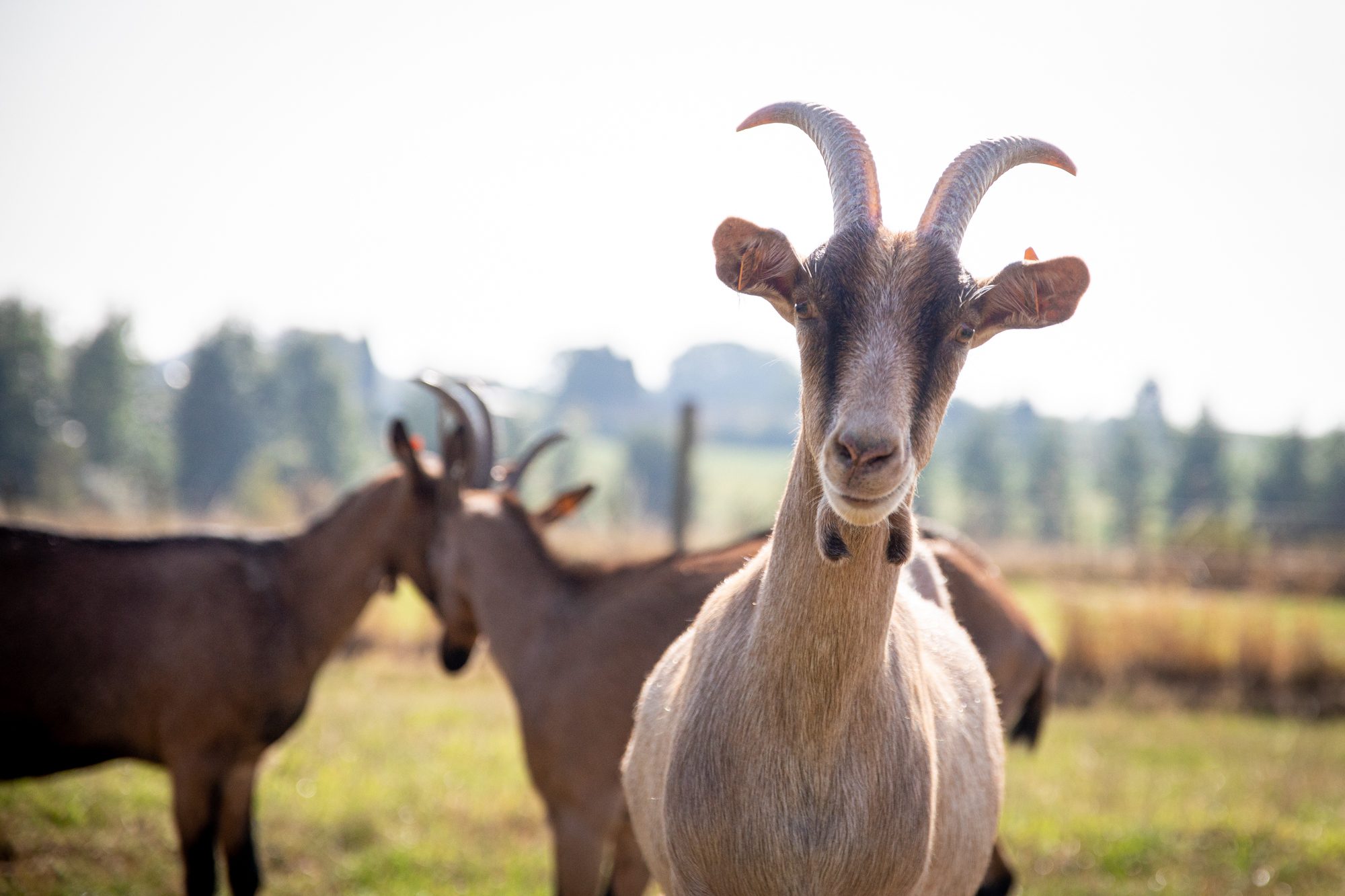 La Chèvrerie et laiterie du Wisbeley produces its own home-made raw milk products, including cheeses, home-made ice cream, fruit yoghurts, etc. Its specialities include macerated cheese in olive oil with Provencal herbs. Children (and adults) will love discovering the goat farm.
Rue Wisbeley 63 – 6800 Recogne (Libramont-Chevigny)
+32(0)498 12 08 32
Friday and Saturday from 9 a.m. to noon and from 1 p.m. to 5.30 p.m.
Free visit (about 20 minutes) with tasting.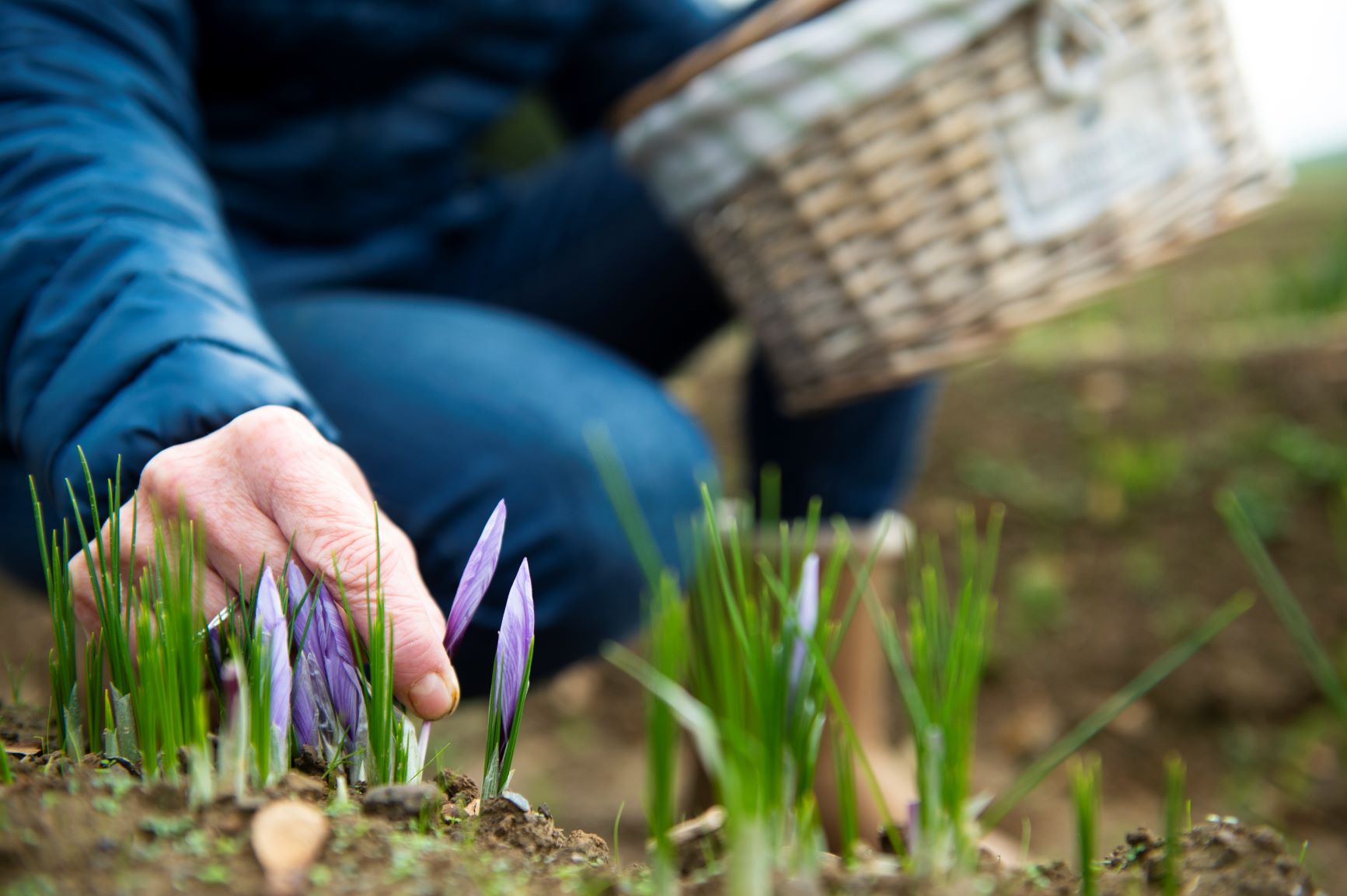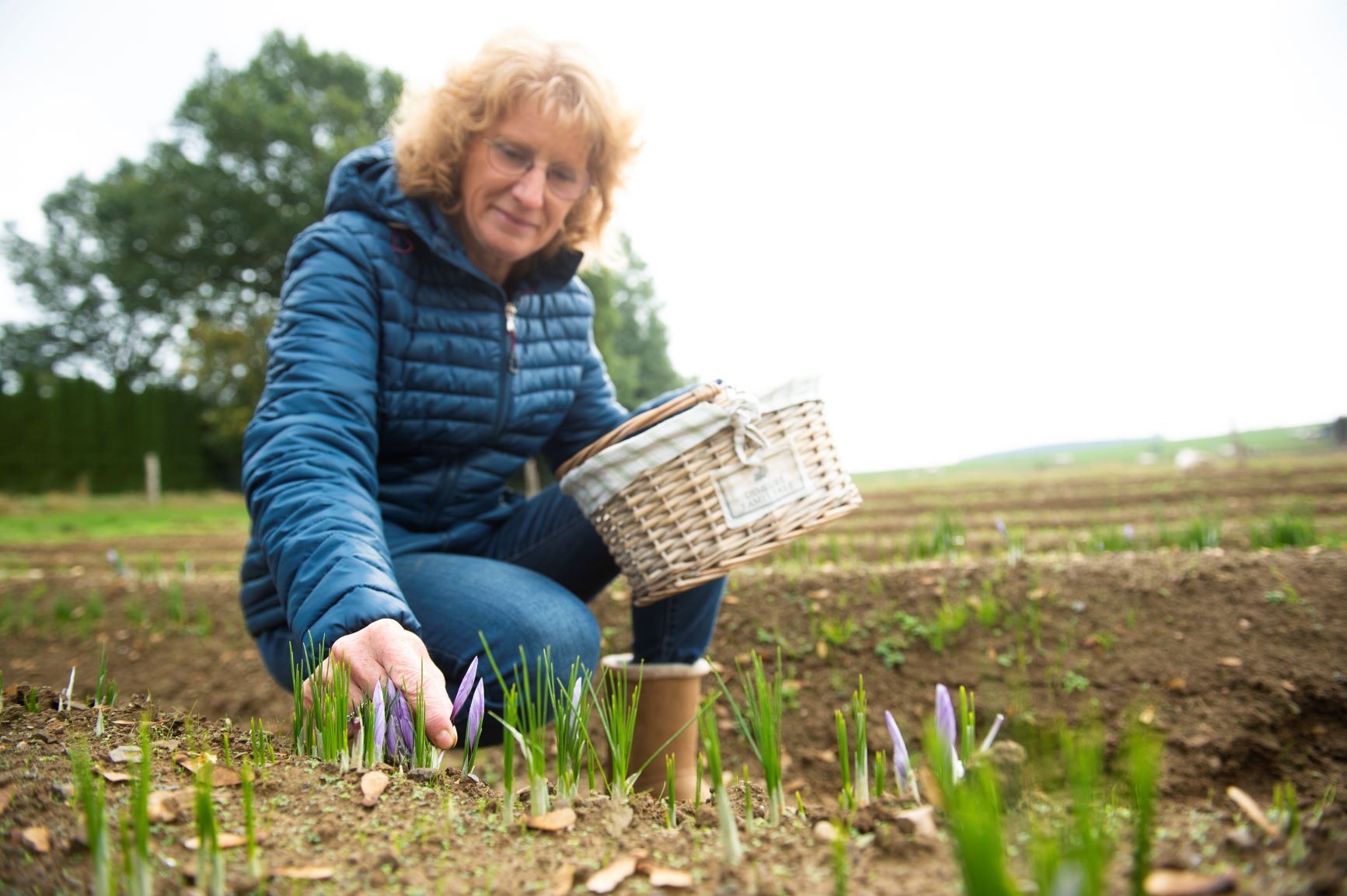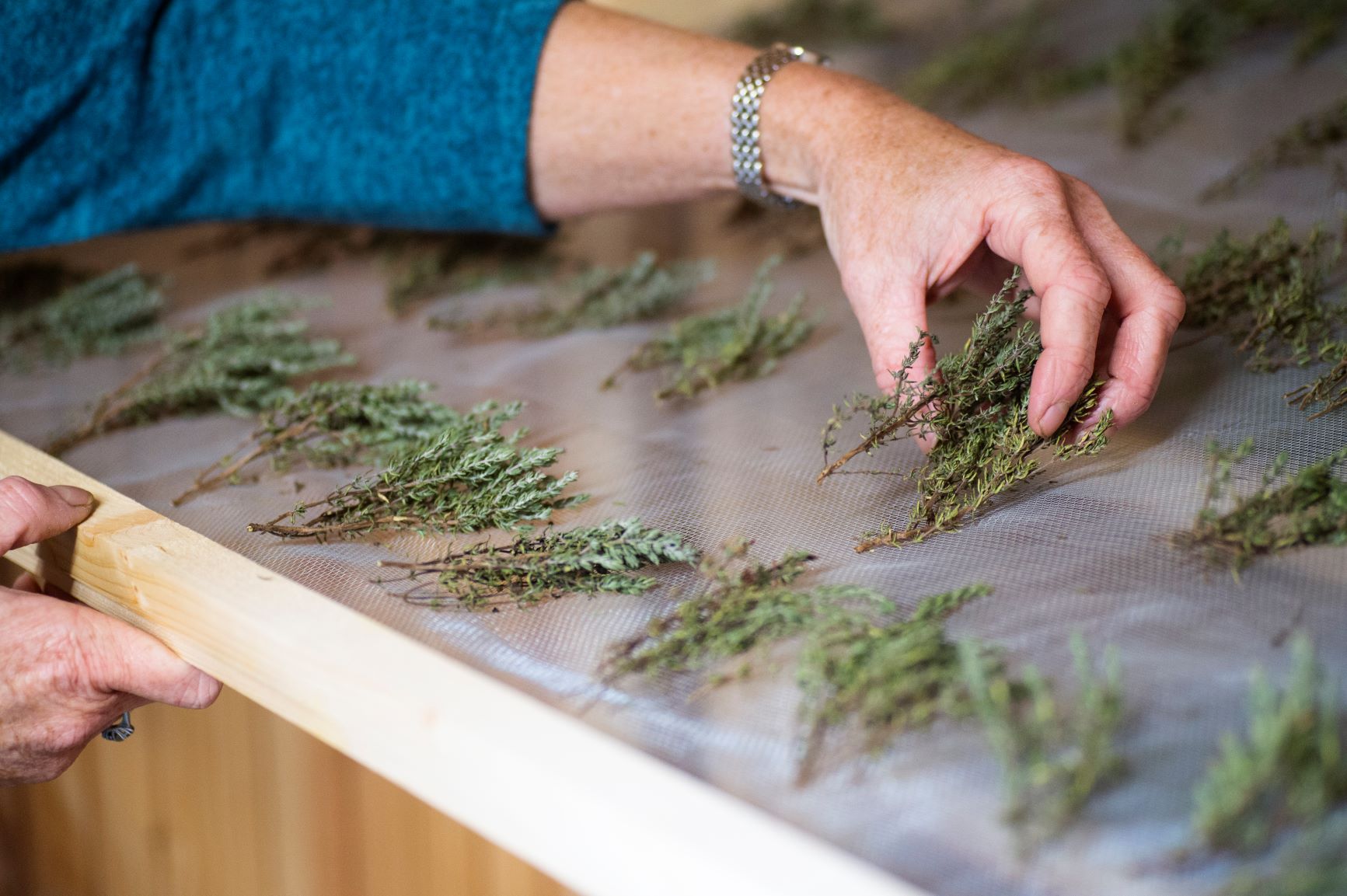 Laurence invites you to discover a special culture – that of saffron. Visit Safranloy preferably during the flowering period (autumn) in the form of an experience sharing. Discover this story of life change, of a desire to return to nature and a passion for gardening. You will also be able to buy by-products (saffron syrup, pumpkin jam and soap) and culinary aromatic herbs from an additional culture.
Vieille Voie 4 – 6890 Anloy
+32(0)475 70 81 04 – www.safranloy.be
By appointment only.
Fee: 5€ p.p. / Free under 12 years. Free tasting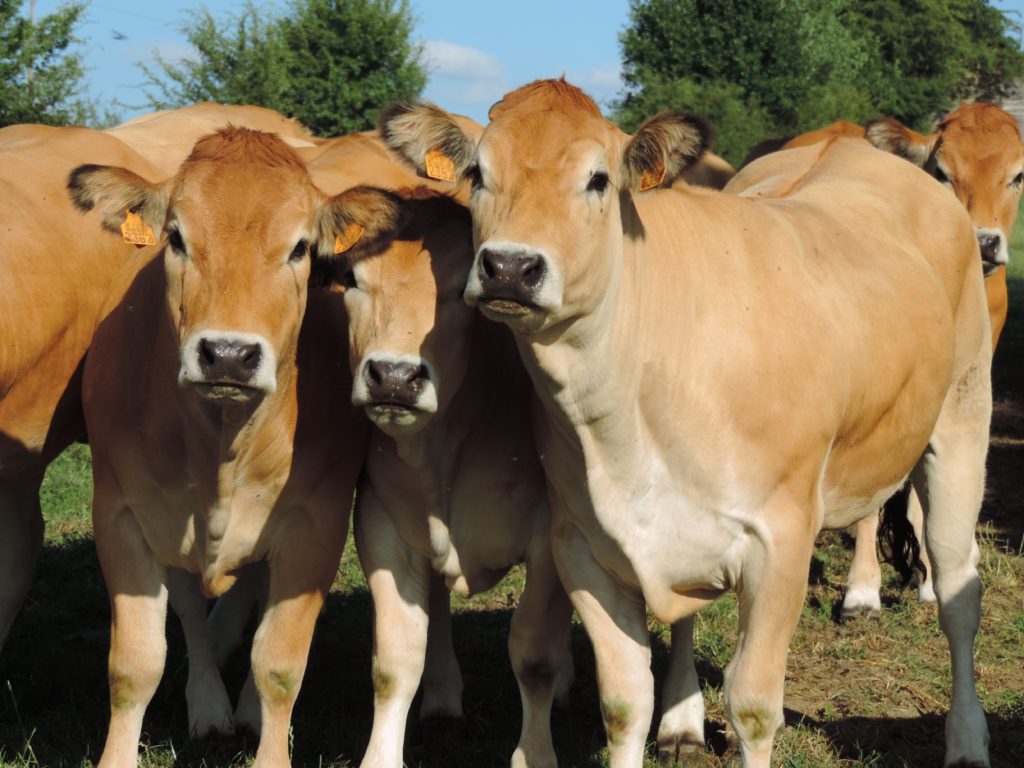 Ismaël Martin shows you around his farm, which has been awarded the "Porc fermier" label. In his butcher's shop, you will find meat straight from the farm (Parthenaisian cows, farm pigs), as well as a grocery. One of its specialities: the Saucisson de la Chestelle, a 100% pure pork sausage.
Rue de la Chestelle 56 – 6890 Anloy (Libin)
+32(0)61 28 78 70 – +32(0)497 45 11 49
www.boucheriemartin.be
Free visit from 4 people (max. 10 people) by appointment.